Recently, the Augmented Reality is becoming more and more common due to use of hand-held devices on our daily life such as smart phones, tablets and lately smart glasses. In this way, different applications, in many cases for leisure, like "Pokemon GO" or "Snapchat" image editor tool, have become popular this technology. But it is also includes for professional use on multitude of application areas.

However, AR is neither a new technology nor it is subject to the use of smart phones orsmart glasses. Spatial Augmented Reality (SAR) augments real world objects and scenes without the use of special displays such as monitors or hand-held devices. The key difference in SAR is it makes use of fixed digital projectors to display graphical information onto physical object surface. The display is separated from the user of the system.
Perhaps the most popular application of SAR is also referred to as "projection mapping", or "video mapping". It is a video projection which turns complex industrial landscapes, such as buildings, into a display surface. This projection is commonly combined with audio to create an attractive audio-visual show. CARTIF has been involved in some projects that apply the projection mapping on cultural heritage field through virtual recovery of the primitive appearance paintings in a significant edifice.
Spatial Augmented Reality in industry
Because the displays are not associated with each user, SAR scales naturally up to groups of users, thus allowing for collocated collaboration between users. Furthermore, users avoid suffering eye strain due to use of smart glasses or be loaded with extra hand-held devices. For these reasons, aside from games and leisure applications, SAR has many potential applications in Industry.
In the automotive industry is used frequently during design stage projecting onto the car surface different options to choose the finish, or showing the employee how to perform the tasks of a specific reparation. Although, one of most implementations in this field is assistance in manual assembly tasks.
One or more optical devices (projectors) fixed provide immediate guidance for tasks step by step, projecting indications (text, images, animations) onto the work surface and in some cases directly on the parts on which a user is working. Spatial Augmented Reality can offer the following benefits: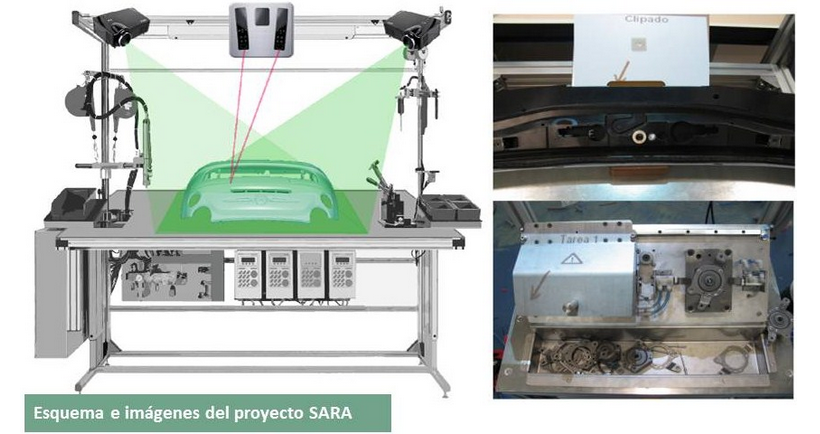 • Reduces or eliminates the need for computer monitors and screens, as the instructions appear directly in the task space.
• Reduces users' cognitive load when following work instructions, specially for training new workers.
• Reduces the need to interrupt workflows to consult information elsewhere because there is no is no need for "attention switching" between work instructions and the task at hand.
In addition of previously commented:
• Workers avoid suffering eye strain due to use of smart glasses or be loaded with extra hand-held devices.
• One SAR system allows groups of users and collaboration between them.
This technology combined with some validation system, such as tool localization system or hand tracker trough computer vision, to ensure and confirm correct execution of the tasks, provides feedback for process improvement, traceability and reduces errors. CARTIF is involved in some projects that apply the benefits of Spatial Augmented Reality and reduce as much as possible its most delicate features, such as ambient brightness, adaptation of projection to colour and shape of the pieces, or possible occlusions produced by workers.

Latest posts by Roberto Pinillos Herrero
(see all)