A few years ago, the magic company Pixar® showed us the story about the robot named WALL-E, who was designed to clean up an abandoned, waste-covered Earth far in the future, exactly in the year 2800. What we don't know is if WALL-E knew the benefits of recycling, that is, the importance of giving a second life cycle to things and, above all, if he knew that all the collected plastics should put into the specific recycling bins.
Maybe someone should have told WALL-E plastics are valuable materials characterized by an interesting potential to be recycled many times, without losing value or their functional properties.
Plastic production became widespread in the 50s and it has grown exponentially during recent years (Plastics Europe, 2015). Furthermore, according to Spanish web AEMA, about a third of the current plastic production corresponds to disposable containers that are thrown away after a year of use approximately.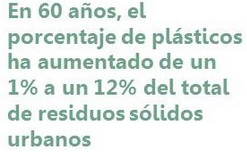 "An efficient Europe resources" is one of the seven flagship initiatives as part of the Europe 2020 strategy, and, to use the post-consumer plastics resources effectively involves to be able to recycle them, whether:
Chemical recycling, that refers to operations that aim to chemically degrade the collected plastics waste into its monomers or other basic chemicals. The output may be reused for polymerisation into new plastics, or
Mechanical recycling, that refers to operations that aim to recover plastics waste via mechanical processes, like grinding, washing, separating, drying, re-granulating and compounding, producing recycled plastics ready to be used again.
And why is so important to promote these actions? Take a look at the following data, extracted from the new report about the future of plastics published by the World Economic Forum last January:
The best research currently available estimates that there are over 150 million tonnes of plastics in the ocean today.
Plastics production has increased twenty-fold in the past half-century and is expected to triple again in the next 30 years, achieving 1,124 Mt.
The plastics waste represents more than the 12 % of the total municipal solid waste, compared with 1 % in 1960.
After a short first-use cycle, 95 % of plastic packaging material value is lost to the economy.
If product components manufactured were reused and no waste was produced, € 625 million would be saved.
If all consumed water bottles in the US in a week were line up, they would do five laps around the planet.
While we are walking towards a future scenario in which the need for virgin plastic is progressively reduced, we should put more effort into R&D and optimizing new recycling techniques, improving their success rates.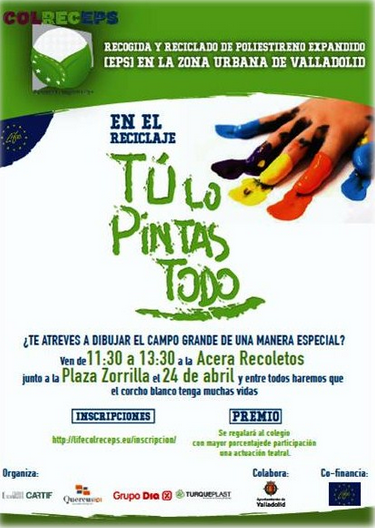 We have already talked about the importance of awareness and the individual responsibility in our previous posts, therefore to learn about recycling and reusing, even in our homes, could be a good starting point for that. And what a better way to begin than by our children.
With this purpose and in collaboration with the Valladolid City Council, we have organized an event aimed at children on April 24, in the framework of the project LIFE COLRECEPS, with the aim of raising awareness about recycling, specifically about the plastic named expanded polystyrene (EPS), more known as styrofoam.
A sustainable polystyrene sculpture is going to be created during the event, in the form of mosaic, from a few pieces of styrofoam painted for the occasion by children participating… even they will be able to get a prize!
The aim is to show that technologies, such as the one that is being carried out in LIFE COLRECEPES, could enable infinite recovery for plastics and do not have to end up in landfills.
Follow us on our social networks to know more details about the event… and see you there!
Latest posts by Laura Pablos Lopez
(see all)