More than a year ago, we invited you to think green and it has been almost two years since we presented the concept "re-naturing cities". Time waits for no man and it is a great achievement for us to ascertain how these concepts, which we study theoretically, become projects.

For both concepts, the implementation is being carried out with the URBAN GreenUP project implementation. Coordinated by CARTIF, its objective is the development, application and replication of renaturing urban plans in a number of European and non-European cities with the aim of contributing to climate change mitigation, improving air quality and water management, as well as increasing the sustainability of our cities through innovative nature-based solutions. The urban renaturing methodology is going to be demonstrated in three front-runner cities, Valladolid (Spain), Liverpool (The UK) and Izmir (Turkey), with the purpose of becoming more liveable cities using nature. To achieve these objectives, the consortium is formed by 25 partners (now, friends) form 9 countries which involve 3 continents (Europe, South America and Asia).
But we should not be bothering ourselves with all these technical definitions, let us try to use our day-to-day language.
Why this project and its development is so important for the citizens of Valladolid?
… Because Santa María Street will no longer be "one of the pedestrian streets perpendicular to Santiago Street" to become the first street in Valladolid with a Nature-Based Solution installed, green covering shelters specifically. These infrastructures integrate specific vegetation in flat surfaces and their structural features allow provide water for plants, humidity for the ambient and shade for citizens. They contribute to the reduction of heat island effect and improve the well-being providing physical coverage for sun and rain and, moreover, they will allow that the green colour appears in a grey zone.
… Because the time before the bus appears in Plaza España will no longer be a moment of impatience (during which we cannot help feeling "when will the bus arrive!") to become an instant in which we can feel comfortable seeing the green covering shelters installed that will serve as a support for local urban biodiversity.
… Because one of the main avenues of the city, with high traffic density, will incorporate green noise barriers, structures designed to allow passage of wind thus avoiding its fall and it will mobile characteristics. They will include innovative substrate and specific vegetal species in order to avoid the negative effect of traffic noise for our ears (even 15dB of reduction) to please the eye, improving the air we breathe indirectly.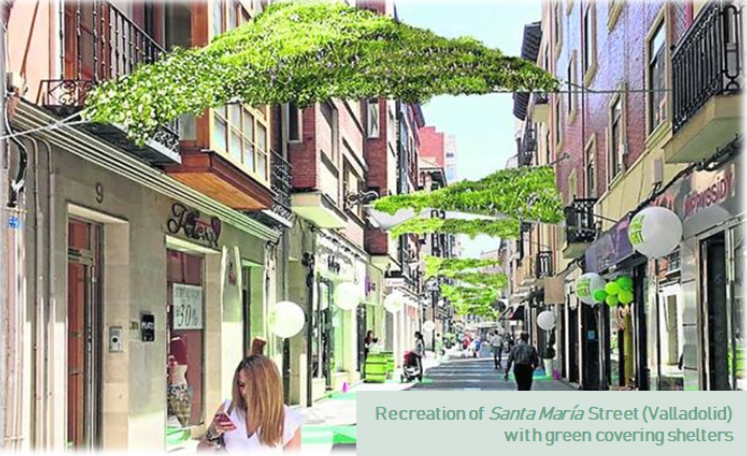 … Because the widely held etymological theory about the name of Valladolid which suggests that it derives from the expression Vallis Tolitum (meaning "valley of waters"), will become "theoretical" more than ever. The city has suffered important floods over the years that honor the possible origin of its name, but the floodable park to be implemented at the entrance of Esgueva River will integrate several NBS to minimize flooding and allow water drainage when heavy rainfalls or extraordinary flooding episodes occur, in that they are becoming increasingly frequent due to climate change.
It will be in a 2-year time horizon when a total of 42 natured-based solutions will be implemented in several areas of the city, and all of them will contribute to transform Valladolid into a more liveable city and resilient to climate change.
For projects such as this, we are organising the "BY&FOR CITIZENS" conference on smart regeneration of cities and regions, with the collaboration of the Institute for Business Competitiveness of La Junta de Castilla y León. It will be held in Valladolid on September 20 and 21 and among the experts attending the conference are included Paul Nolan, the director of The Mersey Forest, and Ramón López, from the Spanish Climate Change Office, to present and moderate several sessions about integrating nature to create new city ecosystems .
As the psychologist Daniel Goleman says "Green is a process, not a status. We need to think of 'green' as a verb, not as an adjective".
Laura Pablos & María González
Latest posts by Laura Pablos Lopez
(see all)