The first month of the year is coming and it is time for reflection. The year ended with us still having in our pockets the boarding pass of our virtual trip to a historic event for the climate, the United Nations Conference on Climate Change (COP21), held in Paris last December. And with its conclusions still ringing in our ears, we begin to understand that all of us, as citizens, have the opportunity to do our best to stop this global threat. And for this reason, the researchers at CARTIF step forward and get down to work, looking back for a moment, to remember the road traveled and, on that basis, define our environmental challenges for the new year.
2015 has been a time with lots of environmental milestones for CARTIF. Seven of our twelve ongoing LIFE projects have passed the middle of their execution and there are already very interesting results, with a huge environmental potential for the future (we will tell you in due time). Different waste management technologies, air pollution and Life Cycle Assessment smart tools have been some of our focus this year, along with other interesting international projects, which never forget to include environmental objectives transversely to the challenges they face.
And because the first month of the year is the period where people are filled with purposes, good intentions and To Do Lists, we have also proposed our own challenges, environmental challenges of course, and we want to share them with you.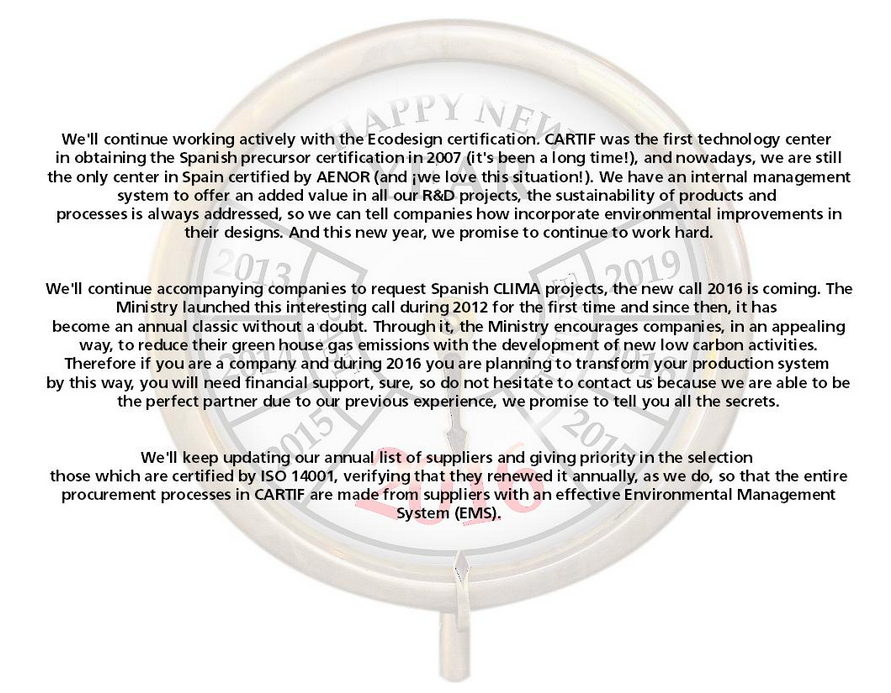 To work ensuring respect for the environment through R&D should be a natural and routine practice, and we'll contribute to it with our work whenever we can. We promise to reduce our carbon footprint in this new year, as well as our projects, and, consequently, moving towards environmental sustainability. Because, it is already known, the road is made by walking.
What do you think? Are you coming with us?
Latest posts by Laura Pablos Lopez
(see all)