With the promise of 75 billion devices connected to the Internet around the world in 2025, the 'Internet of Things' (IoT) opens the door to a future of opportunities for companies to optimize their processes, whether in the form of manufacturing their products, supervising their quality or monitoring the critical machines in the factories: ovens, manufacturing lines or refrigerated warehouses.
In our daily experience as consumers, we can find a multitude of technological offers in IoT devices that we integrate into our lives in a fast and, sometimes, impulsive manner, either because of fashions or real benefits. However, the incorporation of these technologies in companies is not done in such an impulsive way, since it involves a careful study of feasibility and profitability, often complex to demonstrate, as usually happens with new technologies.
In addition, IoT possesses a significant flexibility to integrate itself into the IT infrastructures of the factories. The 'i' of IoT means "internet", which seems to be automatically associated with a direct connection to the Internet of "things" in the factories, and this generates panic because of possible cybersecurity threats for almost any company. To fight against these barriers, information and training are key aspects.
Within this framework, the IOTEC Spain-Portugal cross-border cooperation project is being developed. This initiative aims to create a collaborative network of different actors (researchers, public bodies, ICT solutions providers and industrial companies) of both countries to facilitate the IoT integration in companies. Participants in IOTEC have analyzed different industrial and ICT companies to look for gaps and strengths and to be able to relate supply and demand of IoT. From CARTIF, we coordinate the activities around the industrial companies in order to know their IoT needs through a detailed analysis of their organizational and productive processes that include management, product design, manufacturing process and logistics.
This analysis included a series of technological audits to different agroindustrial companies, analyzing the potential of application of IoT in different parts of its productive process. 40 different organizational parameters were evaluated according to the methodology defined within the IOTEC project. For example, in the section on manufacturing processes, four aspects of great relevance were analyzed meticulously:
The type of process or productive transformation, which is fundamentally defined by aspects such as the raw materials used or the manufacturing steps.
The traceability requirements of raw materials, intermediate products and final products. This traceability has special relevance in agrifood companies.
The control of the production process that is triggered by different mechanisms according to the company: production orders, on demand, availability of raw materials (e.g. vintage).
The need to capture data in the plant as the first phase of complete digitalization of a productive process.
Once all the parameters were analyzed, it was carried out an exhaustive classification of different IoT technologies that could be applied in the industry and have a direct impact on the improvement of efficiency. Next, you can see these technologies: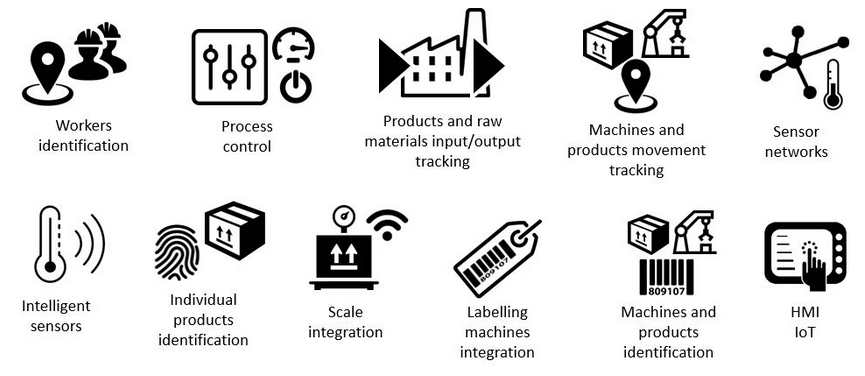 All identified technologies were prioritized by those attending the "Forum of business opportunities through IoT and Blockchain" that took place on November 14, 2018 in Valladolid. The attendees to the event had the opportunity to reflect and vote on this set of technologies to assess their need and the importance of its dissemination by the IOTEC project. Once these priorities are established, it is now necessary to make them known so that IoT solution providers can adapt their offers to real needs.
Likewise, work is being carried out on dissemination and training activities to bring IoT technologies closer and concrete examples of their application to the set of industrial companies in the regions of Castilla y León and the Centre of Portugal participating in the IOTEC network. Any company supplying or demanding IoT technologies can participate in the project forum and benefit directly through collaboration and training opportunities in this exciting set of technological solutions such as the IoT.

Latest posts by Aníbal Reñones Domínguez
(see all)