The first post about Industry 4.0 indicated the need for key technologies that would make possible the 4th industrial revolution. These key tehcnologies have been called "digital enablers". Each industrial revolution has had its "enablers". The first one was made possible by inventions like the steam engine or mechanical loom. The second came started with breakthroughs like electricity or the car assembly line. In the third, disruptive technologies such as robotics, microelectronics and computer networks made their debut.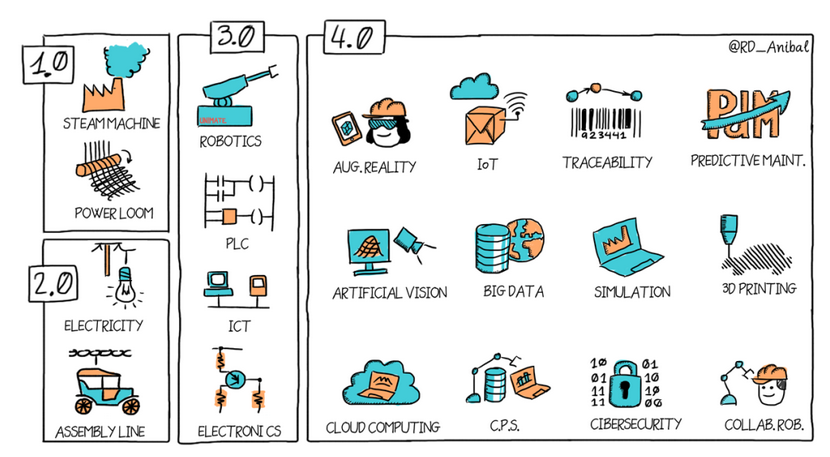 Different strategies such as the German Industrie 4.0 or the US's Advanced Manufacturing Partnership have identified several key enablers. Spain doesn't want to lose the train and had recently launched the Connected Industry initiative.
This post is intended as a shopping list to review those technologies considered highly relevant and key for this fourth revolution. Each brief description is linked to an extended information covered inside our Blog. In next posts we will complete the descriptions to have an overview of the full range of technologies:
Virtual / Augmented Reality: provides information to the operator adapted to the context (e.g. during a maintenance operation) and merged with their field of view.
IoT: internet for virtually any object, in this case, the ones we can find in a factory: a workpiece, a motor, a tool…
Traceability: seeks the monitoring of manufacturing operations (automatic and manual), products as well as the conditions that were used to create them (temperature, production speed…)
Predictive maintenance: an optimized way to perform maintenance in order to avoid unexpected stops and unnecessary waste because of periodic maintenance operations.
Artificial vision: provides the production process visual context information for quality control or assistance in manufacturing (e.g. automatic positioning of a robot to take a piece).
Big Data: generates knowledge and value from manufacturing data as well as other context data (e.g. demand for similar or related products)
Simulation of production processes: creation of a factories "digital twin" to optimize production and help in decision-making (e.g. change the workflow or speed of a manufacturing line).
3D Printing recreates of a three-dimensional copy of: existing parts, spare parts or prototypes with the same or different scale for review or testing.
Cloud Computing leverages on internet computing resources to undertake storage and processing of large data sets (e.g. Big Data) without the need of investment in own IT infrastructure.
Cybersecurity as physical and logical security measures used to protect infrastructure (manufacturing in this context) from various threats (e.g. a hacker, sabotage, etc).
Collaborative Robotics that enabes safe sharing of workspace between the operator and robots specifically designed for this purpose.
Cyber-Physical Systems as any complex system consisting of a combination of any of the above technologies seeking improved performance, in this case, of manufacturing.
The strength of these digital enablers is not in their individual features but in their ability to come together. We as engineers love to look for the latest technology trend and then found a problem or area for its application. But to succeed in this revolution, it is necessary to face real challenges within the factories, using innovative solutions, and why not, combining several of the digital enablers shown above. Moreover, this terminology creates a common framework that facilitates a dialogue between technologists and manufacturers for undertaking successful projects seeking to optimize the factory.

If we think, for example, to optimize maintenance operations in a factory, the "predictive maintenance" will be one of the first enablers that comes to our mind. Also, this technology solution will benefit from a connection to a "Cloud computing" system where sensors' data coming from different factories will be analyzed generating better diagnosis and predictions of the production assets under monitoring. In this type of cloud solutions, however, the security of information transmitted must be ensured via appropriate "Cybersecurity" mechanisms. We will, therefore, generate an Industry 4.0 cybersecure, multi-site, predictive maintenance solution.
The list of presented technologies doesn't intend to be final. Also, technological evolution is continuous and incredibly fast. Like we have mentioned, the combination of different digital enablers generates a wide range of industry 4.0 solutions. In next posts we will discuss more scenarios where digital enablers can answer to different challenges in manufacturing.

Latest posts by Aníbal Reñones Domínguez
(see all)