Urban mobility is paramount to address cities' sustainable regeneration due to the number of issues that derive from a non-sustainable and non-efficient urban transport strategy. Urban transport represents almost a quarter of all the EU transport CO2 emissions. Conventional fuel vehicles contribute to the 40% of the city pollution, leading both to environmental damage and severe illnesses.
The challenge is to identify and analyze the best strategies to introduce clean technologies within an urban environment aligning with the city transport plans and policies and complying with the citizens' needs.
Valladolid city has a strong commitment with sustainable transport and electromobility, as it is inferred from the list of measures taken at city level and their participation in a number of smart city projects at national and European level.
One of the most remarkable ones is REMOURBAN (REgeneration MOdel for accelerating the smart URBAN transformation) that is implementing a number of actions with the aim of boosting even more the penetration of electric mobility in Valladolid city.
Before REMOURBAN:
The largest share of public city transport in Valladolid is covered by the buses fleet, which consists of 103 PLG fuelled, 46 biodiesel, and one hybrid (non plug-in)
Additionally, there are currently 466 taxis operating along the city. Among them, there are several hybrids (non plug-in) and others PLG fuelled. There are also two FEV, the first one operating since December 2011.
Mobility actions to be deployed within REMOURBAN project:
Though not fully deployed, most of the foreseen actions are already in progress.
Five plugged-in hybrid buses have been in operation for one year now. Two of them have been partially funded through REMOURBAN project.
Two FEV cars belonging to the City Hall private fleet are also providing service.
Additionally, a set of 45 fully electric vehicles (taxis, last mile delivery and other private business) are expected to arrive soon. To achieve this ambitious target, the City Hall has launched an interesting offer to boost the adoption of electric vehicles by these professionals. Interested parties will be able to apply as long as they commit to monitor the performance of their electric vehicles and related charging infrastructure. In return they will be getting as much as 8.350€ along 24 months.
Charging infrastructure has also been duly considered and the 34 slow charging points currently available all along the city will be soon upgraded and integrated in a remote management system to allow for seamless and reliable monitoring. Moreover, new charging infrastructure is being put in place to ensure fast charging to the buses and last mile delivery vehicles. In this sense, two pantographs (120kW) have also been installed at the beginning and end of bus line 7, and are currently being commissioned. They will provide the required electricity for their batteries so as to cover the inner area of the city in fully electric mode. The charging process should take around 8 minutes.
The freight delivery vehicles will profit from a fast charging station (50kW) that will also be installed in CENTROLID logistics hub. Last but not least, 4 additional charging points (22kW, Schuko, Mennekes) will be installed to provide charging to the taxis (not exclusively).
Monitoring actions: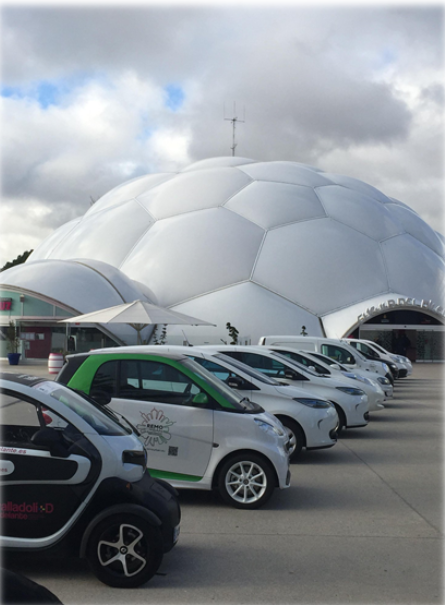 A local ICT platform, in Valladolid, will be managed by CARTIF and further on will feed a global one for the whole project. Everything is being currently set up in order to get ready to register data, both from vehicles performance and from charging processes once the vehicles are in place. This is expected to happen by the beginning of year 2018 and will allow for two years monitoring (as requested by the EC).
On-board Units (provided and installed by GMV) will be registering a number of variables (speed, electric instantaneous engine consumption, battery level, instantaneous auxiliary systems consumption, GPS, emissions, etc.) that relate only to vehicle performance while on route. Additionally, data from charging processes will be collected by a charging manager. This will consist of initial and final charging time, as well as related charging energy.
Information from each monitored vehicle will come from both sources (driving route and charging process). The related set of data will be anonymized and processed by the local platform.
The final aim is to get valuable knowledge from electric vehicles performance in real conditions. All lessons learnt and experience gained will be transferred to other cities willing to adopt these technologies.

Latest posts by María Ángeles Gallego de Santiago
(see all)