As you know, drones are becoming more and more used nowadays. The main reason is the decrease in its price. Therefore, taking aerial images using drones is more competitive than using other devices, such as planes, helicopters or satellites. This also allows ad-hoc measurement campaigns to be carried out, instead of using images from a data base, so the use of more detailed images are made possible.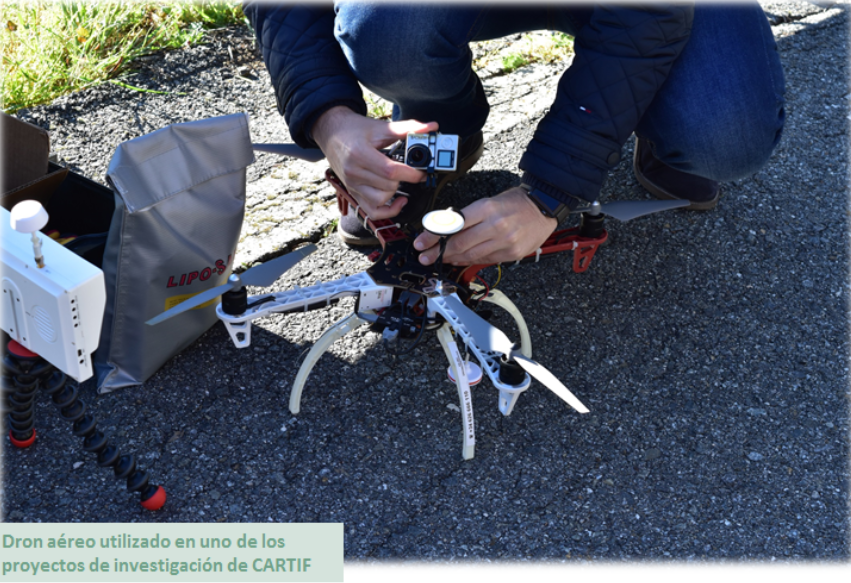 But, what is aerial photography and how does it work? Aerial photography is not only the process of taking photographs from the air, but also the treatment of these images. There are many variables involved in an aerial acquisition, which must be considered to ensure that the data is useful enough to obtain the desired results.
The main advantage of aerial images is the ability to see elements of the landscape, which are very difficult to see from the ground level.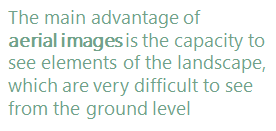 Aerial photographs are taken in two basic forms, oblique or vertical, and both have different uses and applications.
Oblique: These images are usually taken at an angle, typically 45 degrees, but they can be whatever angle that gives the best view of the photographed area. The oblique image is primarily used in archaeology to take a wider context of the supervised zone and the area around it, and also to give depth. Nearly always they are taken at a much lower elevation than when are taken in vertical and its application is fairly limited as they often only work for a specific purpose. These images are taken from small fixed aircrafts, such as drones, and are perfectly suited for monitoring erosion of features and monuments over time.
Vertical: Taking a zenithal photograph over a landscape is the more usual form of aerial photograph. It is a plan view, so there is no perspective to distort the image. This also means that it is difficult to read the features of the photographed area, such as changes in height.
Applications of Aerial Photography
In Archaeology: Aerial photography is ideal for locating lost monuments, especially those that are not visible at ground level, those that are under the soil and cannot be seen on a field walk and those that can only be seen under certain conditions.
In Agriculture: Crop field reports and statistic can be delivered for farmers using multispectral image data from special devices, such as thermal cameras. CARTIF has a lot of experience using this type of devices in some R&D projects (more info).
In Climate Change studies: It's possible to detect rivers which are drying up, the reduction of inland lakes, forests that are dying, etc. Researchers keep vital records in changes over seasons and years to track local effects of climate change and risks to local ecosystems. Localised aerial photographs are fundamental for that purpose.

In Other Earth Sciences: They can also be used to study the process of natural changes, such as variations in soil and geology over time as well as changes to the underlying ground that leads to disasters such as landslides.
Energy and Infrastructure: Mitigate business risks, accelerate pipeline planning, learn about surface composition, and predict environmental impact using the data from aerial images.
Engineering and Construction: From construction site selection and evaluation to the assessment of existing structures, this technology facilitates every step of the project.
Defense and Intelligence: Defense agencies, military contractors, and law enforcement are continually faced with new challenges. Aerial images provide an unrivalled advantage when planning strategic and tactical operations, carrying out combat missions, and developing simulations.
Disaster Response: When timeliness counts, image data provide crucial insight for disaster response efforts and insurance operations. CARTIF is involved in a project which uses this type of technology in order to accomplish these goals.
Urban development: High resolution Aerial Images has gained popularity among Planners, Developers and Engineers for small scale mapping for most urban and land development applications. Information from Aerial Photos when combined with GIS (Geographic Information System) mapping is amongst others, used for analysis, strategic planning and evaluation in urban planning. CARTIF has been working in a research line related to this topic for many years.

Latest posts by David Olmedo Vélez
(see all)