Undoubtedly, the electric sector in Spain has evolved during the past years, especially with regard to self-supply aspects. Time has elapsed since 2004, when the premium regime for the renewable energies was established. Gone are the first regulations about self-supply (RD 1699/2011) which for the first time considered the existence of individual facilities within the houses and set out the procedure and administrative conditions that they must fulfil, at the expense of a new Royal Decree that, due to policy issues, never was materialized.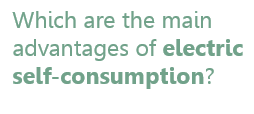 Also far away is the regulation about the elimination of the bonus for sustainable energies, being the first blow suffered by this sector; what followed was not better. The subsequent law 24/2013 was branded as restrictive and discriminatory by the National Energy Commission (CNE), since not only was the self-supply not fostered among citizens, but also the register required complex administrative procedure and the document was not clear. Besides that, it referred to a potential economic tax on the self-consumed energy.
The following years were governed by some uncertainty, since the Royal Decree that should legally regulate all the proposed aspects was not published, thus, although the previous RD was still in force, it was feared that the new regulation was published at any moment. This caused a big paralysation of the electric and sustainable sector, which meant a fast disappearance of companies and jobs.
Finally, the so-feared Royal Decree (RD 900/2015), better known as the "sun taxed RD", saw the light. Its more controversial aspect was the establishment of a tax on the self-consumed energy, which raised up plenty of social and environmental organizations and official organisms against it. This legislation considered some transitory provisions exempting the small facilities of paying some taxes but, due to its temporary nature, citizens did not show interest on this kind of investments.
After some years of inactivity for this sector and by means of a government change, some months ago the Royal Decree – Law 15/2018 was released, opening the door for the active participation of the citizens in the electric market through the self-supply, in line with the current European energy policies. Recently, the Royal-Decree 244/2019 described and regulated the administrative, technical and economic conditions of the electric self-supply, including concepts such as the collective facilities or the net-billing, besides different modalities not considered up to date, which will facilitate the creation and incorporation of energy communities to the electric system.
This will enable a faster transition towards a more sustainable energy system thanks to the increase of the renewable energy generation rate. A fairer system, as the real needs of the consumers will be considered. A more autonomous market, since the dependency on external fossil fuels for power generation will be reduced.
At last now we can say… Welcome, self-supply!

Latest posts by María Regidor Sánchez
(see all)