The activity in R&D is very diverse. The results are visible every day, although they need important periods of time in order to bear fruit. Success in this field is the result of a constant effort. Clearly, the maturing period is higher than political mandates, and probably this is the main difficulty in achieving a political consensus.
The Spanish society is not aware that their standard of living is linked to the rate of advancement of science and technology in our country. Therefore, our leaders do not feel any political pressure to avoid the lack of public resources dedicated to R&D. It is as if almost no one is interested in changing this situation. The famous cry of the Spanish writer Unamuno, 'Let them invent' is seen as the reflection of suicidal thought of lots of Spanish people.
Here, there are some data of 2014, last released by the Spanish Statistics Institute. The Spanish R&D resources rise to 12.821 million euros, 1,5% less than the previous year. This represents 1,23% of GDP and with this data, we go back to the situation of 2003, a trend that began in 2010. Our position is below the EU average: 2,02%. It is too below Portugal, 1,34%, and far from Germany and the Nordic countries, whose spending is approximately 3% of their GDP. Unlike in Spain, the EU average continued to rise in the year of the Great Recession. The situation is even worse if we compare ourselves with world leaders; South Korea spent 4,04% in 2012, and very near Japan and USA.
Data become more unfavorable if we delve into 2014, because the Spanish Government reduced the resources devoted to R&D by 1,1%, and enterprises 1,8%.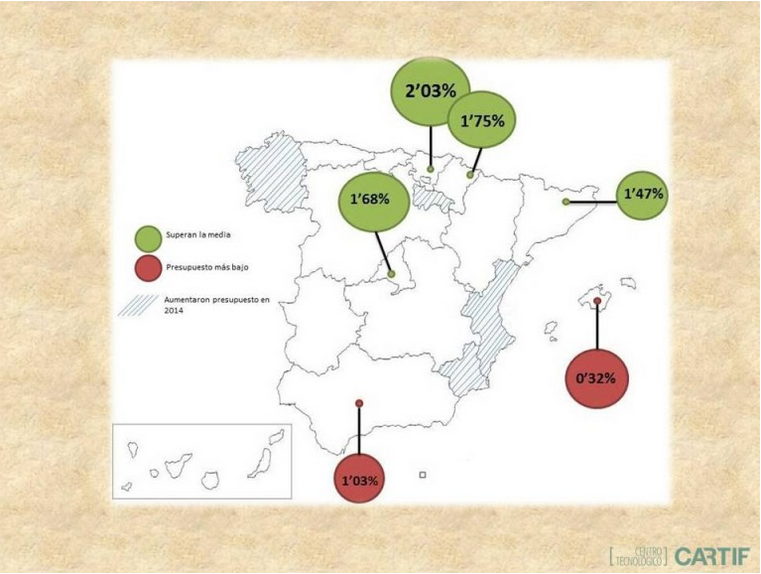 The public sector data are real. The companies' percentages of the annual survey are made by the Spanish Statistics Institute, following the methodology of the Frascati Manual. However, it could be possible that many companies, for tax reasons or prestige, declare as R&D maintenance expenses and others. There are more circumstances that may affect survey numbers, such as capacity expansions.
There are four regions that increased their R&D spending in 2014: La Rioja, Murcia, Galicia and Valencia. The rest reduced them. In relative value in % of GDP, there is a big dispersion: The Basque Country with 2,03%, Navarra with 1,75%, Madrid with 1,68%, Catalonia with 1,47%, above the national average. A great distance followed by other regions, like Andalucía with 1,03% or Baleares with 0,32%. These percentages show the lack of interest from both administrations, central and regional, in encouraging basic engine of economic and social progress.
Latest posts by José Ramón Perán
(see all)