In the European Union 40% of the total final energy is consumed in residential and tertiary buildings. That is reason behind several European Directives established with the aim that the Member States develop long-term strategies encouraging the renovation of residential and commercial buildings applying specific energy efficiency criteria. In order to define efficient strategies they have to be established in a holistic way; beyond individual buildings and thinking in wider terms of districts and cities. For this reason, several research projects are nowadays exploring the best way to perform retrofitting activities with those results in mind.

Nonetheless, the definition of a retrofitting strategy for any neighbourhood or any city is a trivial issue. There are many factors that must be analysed before proceeding with such intervention. Although the objectives to be achieved are often clear (reduction of energy consumption, reduction of greenhouse gas emissions, including renewable energies, etc.), the method to achieve those objectives is variable and different measures can be applied to the same scenario with varying degrees of success. The analysis of the most effective measures in cost-benefit terms requires of a considerable amount of information about the considered area and carrying out a series of complex calculations that allow to obtain indicators associated with the several possible interventions that may take place.
So it is at this point that the use of ICT (Information and Communication Technologies) adds value: performing calculations through simulation tools (including energy, costs and environmental aspects among others) the analysis of the different scenarios is more accurate and also tedious manual processes prone to failures are automated. However, although different simulation tools are available in the market a single specific tool that fully automates retrofitting interventions just does not exist nowadays.
In this regard, CARTIF is currently working on several projects aimed at creating such tools for designing retrofitting projects in cities such as the new project Nature4Cities or OptEEmAL, started in 2015. Both projects are funded by the European Commission under the Horizon 2020 R&D programme.
Nature4Cities aim is the development of a tool to support design of energy retrofitting projects in urban environments by applying Nature Based Solutions (NBS). This type of solutions has already been covered by my colleagues in a previous post.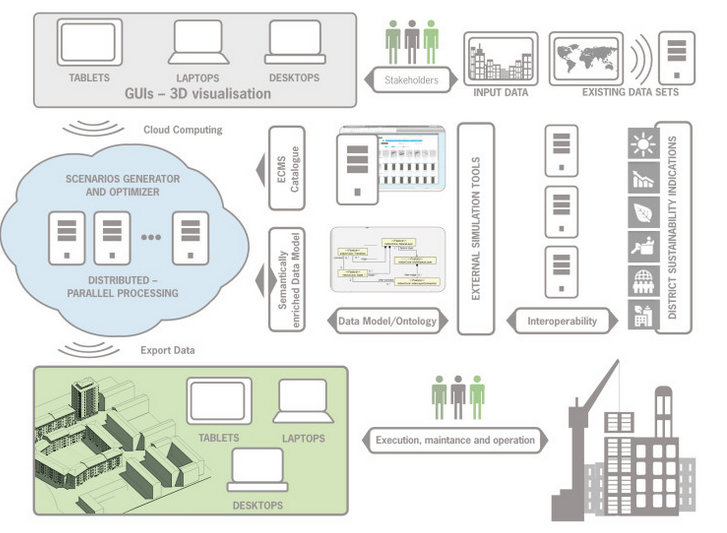 On the other hand, OptEEmAL project focuses on developing a design platform for energy retrofitting projects at district level. Working with input data provided by the user (BIM, CityGML and other type of data) the OptEEmAL platform automatically generates and evaluates possible retrofitting scenarios based on implementing a set of measures for energy conservation.
Such measures are contained in a catalogue according to a data model based on standards (such as IFC). The solutions included in this catalogue are both passive (envelope improvements, change of windows) and active (concerning energy generation systems, renewable energies or control strategies) and are applied both at building and district level. These measures may be generic solutions with default values or specific solutions provided by commercial entities.
In order to evaluate the various potential scenarios, a set of performance indicators are analysed and then categorised into different categories: energy, comfort, environmental, economic, social and urban. Once the optimisation has taken place, the OptEEmAL platform shows to the user the solution with better results in terms of indicators. As a result of the process OptEEmAL provides the user with very detailed information on the retrofitting project.
CARTIF will continue working in this area of knowledge with our strong commitment to support energy efficiency and ultimately improve the cities and places where we live.

Latest posts by Víctor Serna
(see all)