The newly closed Rio 2016 Olympic Games are still in our minds, means of communication and webs, and we are wondering some questions such as how the diet is for athletes? what kind of products they consume? Are they suitable for any athlete with less level?
After 14 years of discussion, the European Commission published last June the highly anticipated report on food intended for sportspeople. The purpose of this report was determine whether the food for sportspeople are special food (and therefore, if it would be necessary a specific provisions) or simply consider them as a food used commonly.
This report builds upon a market study on food intended for athletes carried out by the Food Chain Evaluation Consortium (FCEC). The number of sport products present in the market can be estimated, on the basis of the innovation rate at EU level, to between approximately 20,000 and 30.000. The FCEC Study identified the following three categories of sport food:
1. Isotonic drinks (61 %)
2. Protein-based products for muscle strengthening, building and post exercise recovery (26 %).
3. Products to increase energy and performance and continuous complementary products for athletes (13 %).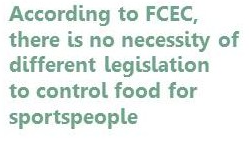 Sport food is not defined in EU legislation. For the purpose of this report, the study considered as "sportspeople" those people who practice sport once a week or more. Also the definition of "sportspeople" included the requirement to consume at least a sports food in the last year.
Finally, the Commission concluded that there is no necessity for specific provisions for food intended for sportspeople. After 20 July 2016, a sport food will be considered under horizontal rules of food law as a food supplement (accordance with Directive 2002/46/CE) or, as a fortified food (accordance with Regulation (EC) 1924/2006 and Regulation (EU) Nº 1169/2011). The arguments for this decision are:
• People who carry out sport activities hardly can be characterized as a specific vulnerable group of consumers.
• Sometimes, it is very difficult to understand whether a specific product has to be considered as a food intended for particular nutritional uses by sportsmen or a food for normal consumption fortified in certain nutrients with a health claim targeting sportspeople.
• The horizontal rules of food law provide the necessary safeguards for these products in terms of food safety, food composition, consumer information and legal certainty.
Currently, there are already some authorized healthy claims aims at sportspeople (see next table). Relevant claims for sportspeople on caffeine are under discussion. On the other hand, despite the fact that EFSA regarded the beneficial effect of sodium, there is not authorization to say 'high in sodium', because it is not beneficial for everybody.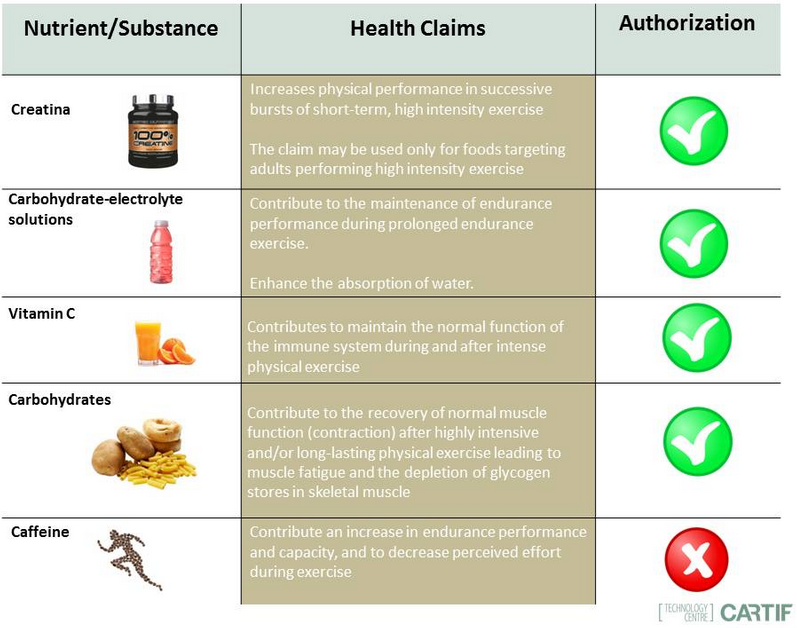 Operators are clearly divided on the question whether specific legislation is necessary for sports food or whether sports food should be legislated by horizontal rules of food law.
An industry group is worried because they think the innovation of these products is limited. But, you know, "you can´t please everybody".

Latest posts by María Morillo Cabello
(see all)