Today, October 16, is commemorated, as every year since 1979, World Food Day, promoted by the United Nations Food and Agriculture Organization (FAO). This year, the FAO makes a special call to achieve healthy food for all corners of the planet and, especially, for the most disadvantaged places, even more so at the moment due to the pandemic that is devastating us. In addition, people who cultivate the land, collect, fish or transport our food are honored in a special way. They are today the #HeroesofFood.
World Food Day has been celebrated every October 16 since 1979, promoted by the FAO. This year it does so under the motto "2020; cultivate, nurture, preserve, together "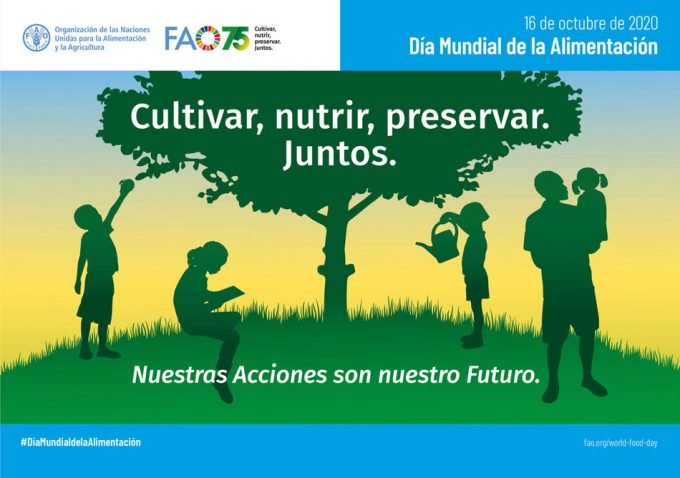 Changes in nutritional habits in Europe are becoming more and more evident. The increase in diseases related to malnutrition – and the impact of this fact on the health system – which we already talked about in a previous post (Malnutrition due to excess), translates into more than 70% of the adult population with overweight and 30% obesity, while 820 million people in the world suffer from hunger (FAO Data, 2020).
On the other hand, the current food system – which includes cultivation, animal husbandry, transformation, packaging and transport – is responsible for 37% of the total greenhouse gas (GHG) emissions that are generated annually, and that food losses and waste also contribute 8-10% of the total (IPCC Data, 2019) as we also commented in another post (Tell me what you eat … and I'll tell you if it's good for the planet).
A large part of Europe's food systems produce unsustainably and display unhealthy consumption patterns. It is necessary to align the objectives related to production, with those related to nutrition and health.
Sadly, with these data, we can say that if our current food systems are characterized by something, it is by unhealthy and unsustainable diets from an environmental point of view.
In summary, it can be said that, despite the growing interest of the population in food, nutrition and food quality and the benefits that a healthy diet has on health, the European Union has been experiencing a negative transition for years marked by the increase in these non-communicable diseases (diabetes, cardiovascular diseases, cancer or chronic respiratory diseases).
For this reason, food systems need to face great challenges such as feeding a growing population, also concentrated in urban centers, while reducing the pressure on natural productive systems in the context of climate change. By achieving this transformation, we will improve our diet, our health and the health of the planet.
We all have a relevant role in making our food systems more resilient and robust so that they can adapt to each situation and climate change by offering healthy, affordable and sustainable diets in a fair system for all members.
In this context, the strategy of the Farm to the table arises to achieve a sustainable diet (From farm to fork). It is one of the initiatives of the European Union to achieve climate neutrality by 2050 within the so-called European Green Deal (European Green Deal). The Farm to Table strategy contemplates the production of food with a neutral or positive environmental impact while ensuring food safety, nutrition and people's health within a framework of affordable and profitable prices. In it, European farmers, ranchers and fishermen are recognized as key actors to achieve climate change and preserve biodiversity, and a marketing environment is promoted through short channels, betting on the mitigation of climate change and the reduction or elimination of food waste.
The ultimate goal of this strategy is to achieve a fair, healthy and sustainable food system in which safe, nutritious and quality food is produced while minimizing the impact on nature. All of this aligned with the Sustainable Development Goals (SDGs).

Maybe today is a good day to write our letter of wishes; Dear food system, I want to meet you more sustainable and healthy. To act in favor of change and reduce the impact on climate change, I am committed to making better choices about my food and to contributing with all the small actions that are in my power.
There is no doubt that by choosing a healthier and more sustainable diet we are consciously contributing to change. Choosing foods that have a lower footprint (carbon, water or ecological) contributes to a reduction in the emission of greenhouse gases and, therefore, to slow down global warming. In addition to the lower impact on the environment, we get a greater benefit on our health since we obtain a more balanced diet. By eating a varied diet or choosing seasonal products or less processed foods, we can also reduce our carbon footprint. Small actions such as consuming tap water, planning the purchase, cooking in a traditional way or properly preserving food, contribute positively.

Latest posts by Belén Blanco Espeso
(see all)