Today, 16th October, we celebrate once again a very important date for each and every living being of the planet; World Food Day. This time, Food and Agriculture Organization of the United Nations (FAO) pays tribute to precious resource essential for life; WATER.
Water is life, as the motto of this year´s celebration says..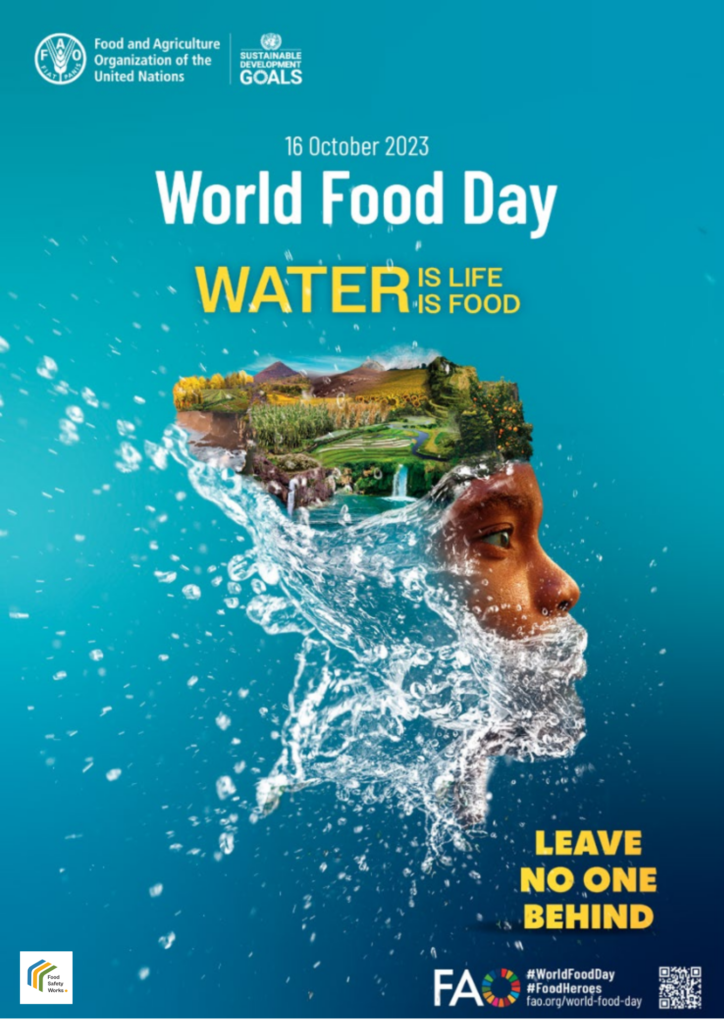 It is a driving force for people, economy and nature and is the lifeblood of food. Food security and proper nutrition are terms that are intrinsically linked to ecosystmes, where without water there is no life, no fundamental functions and no productivity-crucial aspects of food systems.
Water and food systems are profoundly linked through activities related to food production, processing, distribution, preparation and consumption within a broad and complex socio-economic, political and environmental context.
Food we eat and how ir is produced affects water. In fact, if we think about the food we eat, 95% of it is produced from a combination of water and ground. However, we must bear in mind that water suitable for drinking, agriculture and most industrial uses, known as freshwater, comprises only 2.5% of the total. Surprisingly, agricultural sector alone consumes more than 70% of the world´s available freshwater supply. And here comes some worrying news: due to population growth, urbanisation and economic development, the global demand for water for agriculture is expected to increase by 35% for 2050. This problematic is already a reality; according to FAO, 3.2 billion people live in agricultural areas with high or very high water scarcity.
#leavenoonebehinf; Water is life. Water nourishes. However, 2,400 million people live in water-stressed countries and aproximately, 10% of world´s population lives in high and critically stressed countries.
In the case of food from fisheries and aguaculture, whose importance for the diet is high due to its composition of essential nutrients such as omega-3 fatty acids, vitamins and minerals, the dependance on water is even greater. According to FAO data; at least 600 million people depend on aquatic food systems.
In addition to water quantity needs, water quality is also being affected by climate change and related diseases and food regions where extreme heat events occur.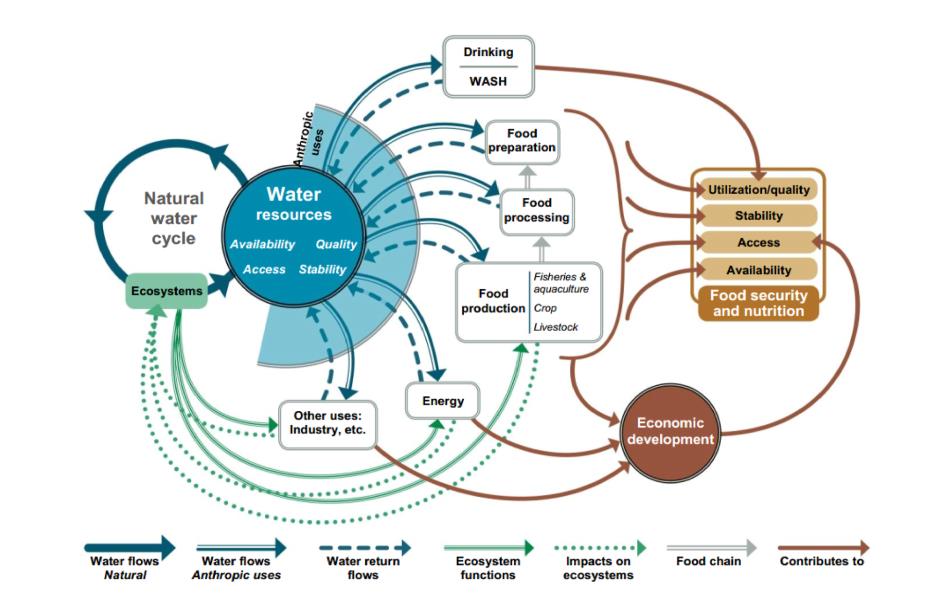 These extreme weather events can affect water quality in several ways. On the one hand, rising temperatures can lead to the proliferation of water-and food-related diseases, as warm conditions favour the reproduction of dangerous micro-organisms. In addition, extreme weather events, such as droughts and floods, can contaminate drinking and agricultural water sources.
According to the Intergovernamental Panel on Climate Change (IPCC) report published last July, climate change is having a direct impact on decreasing food security and affecting water availability, hampering efforts to achieve the Sustainable Development Goals. In addition, oceans warming and acidification is having adverse effects on seafood production.
The same report again points to the need o to curb global warming. Limiting the growth of warming to 1.5ºC would reduce water stress and benefit this resource.
Therefore, climate change, water scarcity, the need to produce food for a growing population, degradation of water resources and associated ecosystems present significant challenges. In addition, other difficulties arise such as increasing competition for water use in different sectors and the lack of effective mechanisms to manage and protect the interests of those who are most vulnerable. There is an increasing urgency to find a sustainable way to manage water, which is referred to as "water security". This would not only improve efficiency in food production and ease the tension in the conflict between growing demand for food and limited water resources, but also ensure access to food for all people. In this sense, water plays a key role in the process of improving our food systems.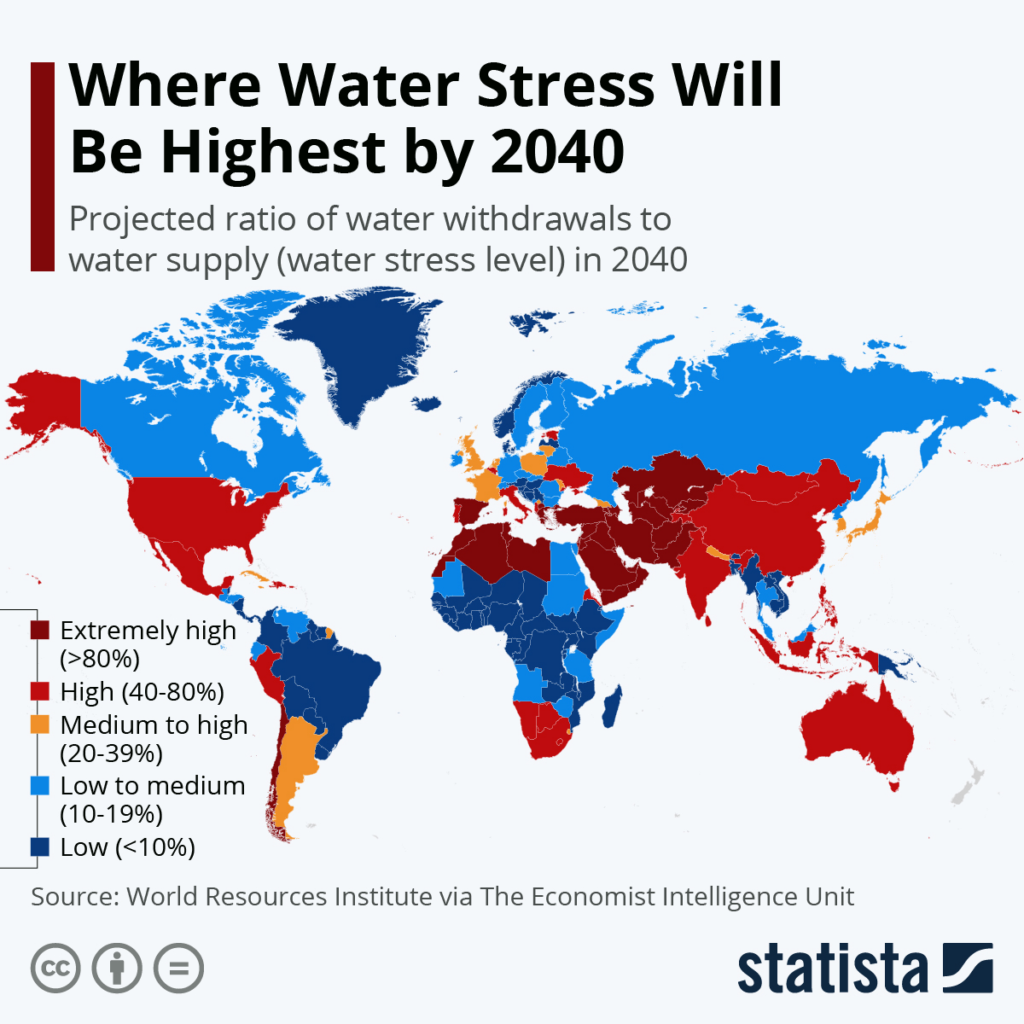 There is a need to reduce water stress factors on food systems, as this has a strong negative impact on their functioning.
Water managament and governance is important not only in agriculture, but also in addressing water and food waste at all stages of the chain. The lack of relevant data between the different processes in the nexus highlights a lack of coordination between related actors and is a challenge that we need to address in a holistic manner.
The future of food is at stake, but there is no doubt that this necessary paradigm shift is intimately related with the future of people and the planet, and that it is a path for all of us towards a sustainable future, as our colleague Julia Pinedo explained in her post "Towards a food revolution".
World Food Day is a day of celebration and a multitude of events and activities are organised around it. But, above all, it is an opportunity to reactivate our awareness of hunger and the planetary needs of ALL actos involved in ensuring a sustainable future of food for people and the planet.
Today´s agriculture is not sustainable and compromises the future if we don´t incorporate innovative axes and responsable solutions to ensure an adequate and sustainable food supply for generations to come. Our challenge is to produce more food and essential agricultural products with less water. This means creating and participating in integrated solutions for more efficient use and better conversation of existing water resources. Water challenges are pressing in all sectors, and achieving balance in water allocation requires collaboration between governments, farmers, researchers and civil society. To meet the water needs associated with food production, scientists and farmers are working together to develop sustainable water practices, such as building desalination facilities, creating reservoirs, applying water-saving technologies to reduce per capita water demand and improving agricultural efficiency.
Researchers seek new sustainable, social and economic solutions to address water challenges and meet our growing needs. This involves considering the complex interactions between resources and variables in realtion to water, energy, food and ecosystems.
It is therefore essential that our actions are linked across the water cycle and food systems to improve both the water cycle itself and food securty in the context of healthy and balanced ecosystems.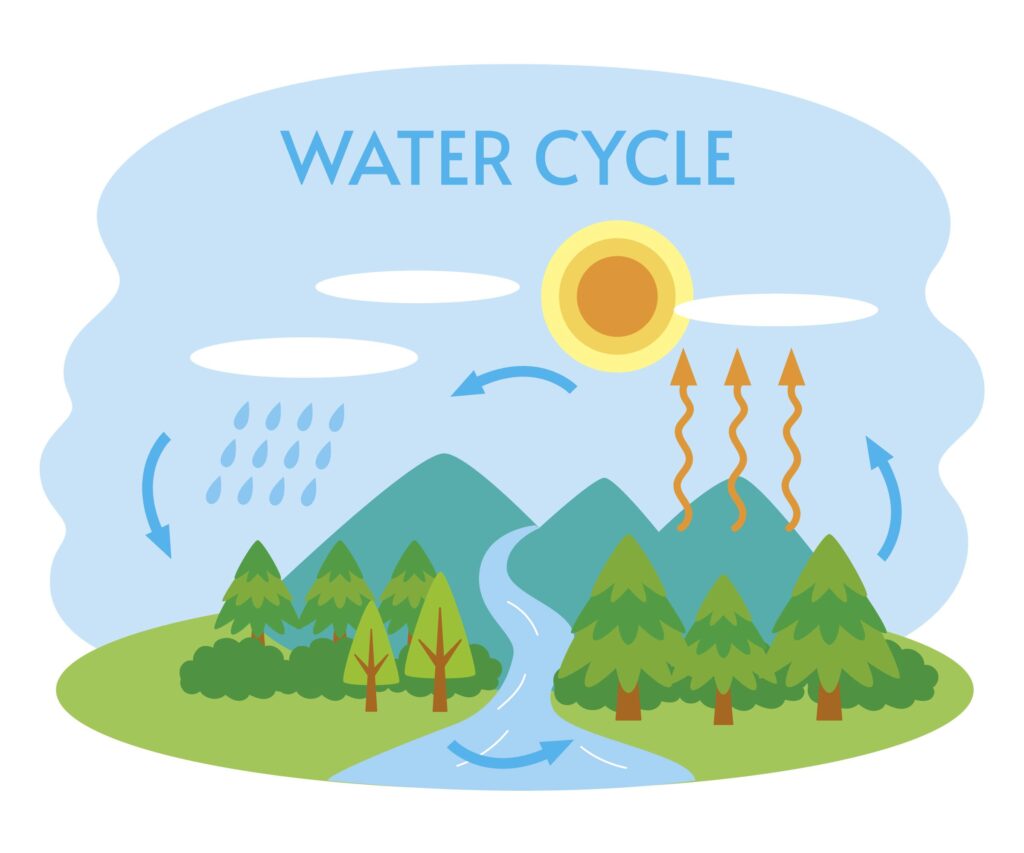 The choice of the food we eat contributes to the way it is used. Actions such as eating local, seasonal and fresh food or minimising food waste contribute to reducing the impact on water stress.
Therefore, at CARTIF we work from a broad perspective of action on the challenges associated with this valuable resource. An example of this is our activity in the FUSILLI project in the transformation of food systems in a holistic way with the objective of improving their environmental sustainability through actions related to water management, the reduction of food waste, social inequality in its use and the evaluation of the associated uses.

Latest posts by Belén Blanco Espeso
(see all)