Retrofitting actions at Torrelago (Spain) district are coming to an end and a new time for reflection, analysis and assessment is about to start. CITyFiED is at the heart of Laguna de Duero (Valladolid, Spain) and has established the foundations towards a more sustainable development of the city and healthier urban environments.
CITyFiED has embraced the Torrelago residents in a democratic process to take part and decide on the renovation actions. At the same time, the CITyFiED representatives have ensured that the retrofitting investments all made economic sense to the residents so they can benefit from them. In a truly cooperative approach, CITyFiED representatives and residents have carried out an extensive demonstration action at Torrelago district from June 2014. All of the main economic and technological aspects in terms of building retrofitting, district heating system upgrade, integration of renewable energy sources and monitoring have been addressed by means of a systemic approach in order to achieve not only significant energy savings and very low CO2 emissions but also remarkable improvements in the residents' comfort conditions.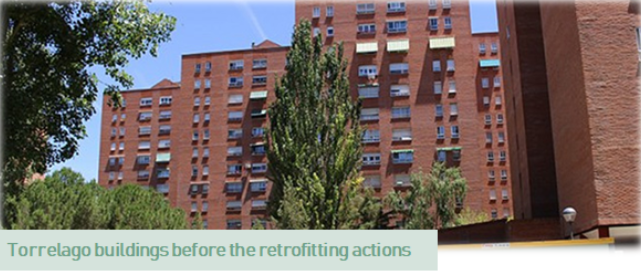 Torrelago district renovation means the retrofitting of 143,025 m2 of living space and achieving 1,488 dwelling retrofitting actions for meeting the CITyFiED targets, i.e. reducing the energy demand up to 40% and avoiding at least 3,500 tons of CO2 emissions per year. The 31 buildings have been retrofitted with an external thermal insulation composite system, and the application of the finishing coat with primer and paint coating is only pending in 5 buildings. Dismantling scaffolding will be finished by May 2018.
In parallel to the building renovation action, the old energy system composed of two independent gas-based district heating networks has been upgraded. One of the previous gas boiler rooms has been replaced by a new biomass boiler room of 3.5 MW and the two networks have been merged to build a new multi-source (biomass and gas) district heating system that covers the 80% of the thermal demand with renewable energy sources. In addition, new variable flow pumps, heat exchange substations, individual smart meters and thermostats have been installed, together with a micro-cogeneration system to generate 33 kW of power and 73.4 kW of useful thermal energy.
After the large renovation action, one full year monitoring campaign is approaching and the CITyFiED monitoring platform is ready to collect information from the new energy systems and deliver environmental, technical, economic and social key performance indicators by March 2019.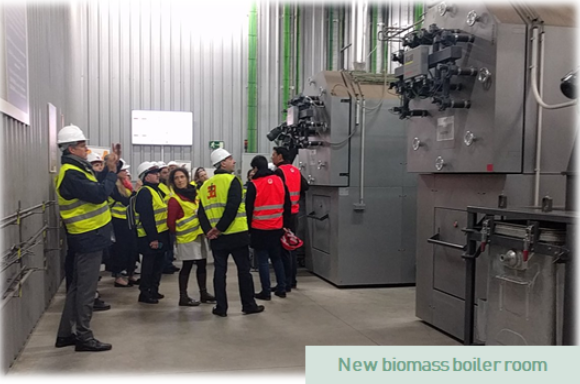 Energy efficiency is taking its place as a major energy resource in Laguna de Duero city to achieve sustainability and growth targets. Indeed CITyFiED investment in Laguna de Duero, more than 16.5 M€, has provided many different benefits to citizens and other local stakeholders. Whether by directly reducing energy consumption and associated costs, which can enable investment in other goods and services, or facilitating the achievement of other objectives, e.g. making indoor environments healthier or boosting industrial productivity
Citizens, as main users of the city environment, have clear benefits in their daily: raising the economic activity in the city, which has led to a reduction of unemployment with 50 new jobs created in the CITyFiED context, enhancement of their environment and quality of life, and also to be on board for the transition to the concept of smart city of the future, with more comfort at city level and more technology at the service of the citizen. Even utilities and other energy providers benefit in a variety of ways from CITyFiED energy efficiency measures. Direct benefits include lower costs for energy generation, transmission and distribution, improved system reliability, dampened price volatility in wholesale markets and the possibility of delaying or deferring costly system upgrades.
CITyFiED actions in Laguna de Duero has reached more than 4,000 inhabitants that directly benefit from the project actions and their different testimonies on the district retrofitting actions play a key role in the deliberations of CITyFiED representatives. Reducing energy consumption and CO2 emissions is not only about adapting new technologies, but ensuring that these technologies are also being accepted by the public. Being able to talk about concrete examples that have proven to be efficient allow us push forward energy retrofitting projects and solutions beyond CITyFiED.

Latest posts by Ali Vasallo
(see all)