Given that the food and beverage industry in Spain comprises about 22% of industrial GDP and is formed by 30.000 companies (of which 96% are SMEs), it is not strange that our country avails one of the most important exhibitions in Europe: Alimentaria.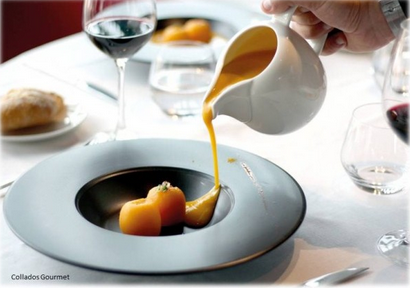 This biennial meeting is undoubtedly a professional showcase and a benchmark event in the food sector. With nearly 4.000 exhibitors from 63 different countries, it allows to know the news, and current and future trends in food, in addition to doing business.
In ALIMENTARIA 2016, held last week, it highlights the strong internationalization of companies and products as a vector of change (or overcoming of the famous 'crisis') and an increase in the market of organic products and food products elaborated through sustainable processes.
Some of the main areas in ALIMENTARIA 2016 are Intercarn, Interlact, Intervin, Multifoods o Restaurama. In them, we have seen many new products, always from our point of view as researchers in food field.
We have found pearls of olive oil, almond oil, vinegar and juice.
Chorizo, Catalan sausage and salami for vegetarians; without meat, but with egg white as a protein source.
Going on with meat, we have found shoulder blade or rack of young lamb semielaborated, which is finished in the oven inside a container without staining and leaving the meat in its point and with crispy crust. Easier and cleaner, ¡impossible!
Omelets stuffed with black pudding, Catalan sausage or goat cheese.
Salt of all flavors and colors.
About drinks, in addition to the multitude of wineries with delicious wines and precious labels and bottles, we have found several drinks based on extracts. Drinks made from beans and strawberries, vegetable drinks, rice drinks with coconut or almonds, craft beer with aloe…
Pizza flour charcoal. That is; black pizza bases in order to stand out the rest of foods. And with the purifying benefits of charcoal, of course.
Wide variety of healthier snacks based on peas, beans, broccoli, mango, banana, pineapple or apple textured. And, as a novelty, snacks based on beef jerky with different flavors (spices, chili, curry).
Sauces and chutneys: carob with dates, apple or pineapple mustard, honey with ginger or cinnamon, cocoa butter or jam with wine, oil or vinegar…
Personally, I want to highlight a delicious mango gazpacho.
And finally, one of the foods with hardest presence was quinoa. Quinoa flour, cereals, biscuits, bars, quinoa ready to eat with vegetables, and a long etcetera.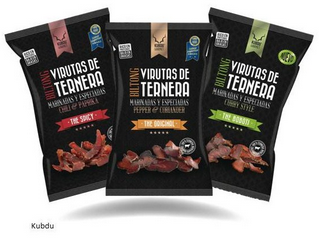 Today's consumer looks for pleasure in food, but, without doubt, the trend that marks the development of new products is the health concern. This factor includes feeling good, getting fit, improving health and not growing old.
CARTIF collaborates with several food companies in this field, developing new products, improving existing ones, changing ingredients, valorazing subproducts, in order to suit a demanding and competitive market which is constantly in movement.

Latest posts by Belén Blanco Espeso
(see all)