The photographer Peter Menzel few years ago visited different countries of the world in order to photograph families of those countries with the food they consume regularly for a week. A book was published based on this work, "Hungry Planet", where tastes, preferences and food culture of these countries are reflected, but in addition we can see the reality of our world, in which millions of people suffer from hunger and malnutrition, while in other countries obesity rates grow as epidemic and food are wasted in large amounts.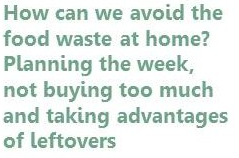 The expense that a family does in your shopping basket is very different between countries reflecting Menzel. In some, like Chad, they survive as little more than a dollar a week, while in others, we eat with excess of calories and we are wasting big amounts of food. With our habits, we contribute to wasting much of the food we buy and consume in our homes.
I used the pictures of Menzel in this occasion to close this post the serie about food waste in particular, to speaking about food waste in households.
The 42% of food are thrown out in household according to UE, and Spain is the seventh country that more food waste to 7,7 million tons. In 2013 a study was published by Hispacoop and supported by the National Institute of Consumption in which it was noted that in Spain the average waste per household is 1,3 kg/week. The group of breads, cereals, pastries and others foods (19,3%), fruits and vegetables (16,9%), milk yogurts, cheeses and other dairy products (13,3%) and pasta are the most waste food, among all these groups account for 62.6% of wasted food in households.
Leftovers, main reason
Leftovers meals are the main reason why food is thrown away in the household (86.5%), not to calculate the portions not plan well or menu beforehand.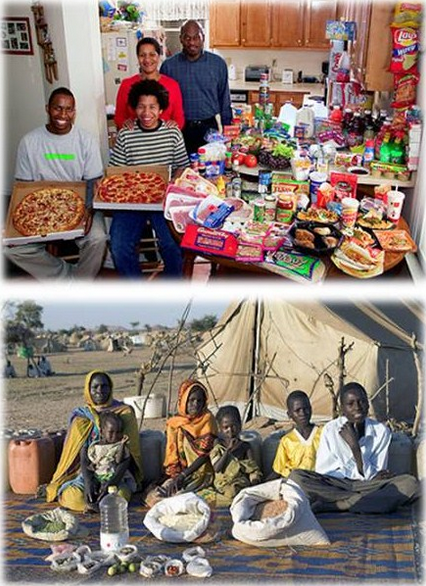 We have to recover recipes and seek to take advantage of these leftovers, our recipe book is full of dishes that are born like recipes of leftovers: "croquetas", "ropa vieja", the delicious "torrijas", etc. All of them have appeared of wit of chefs, cooks and especially housewives who have sought the way to harness remains of bread, meat, vegetables and give them a second chance like delicious dishes.
The deterioration of food by poor storage or excess in storage has been reflected as the next reason to reject food in Spanish households. We tend to save the leftovers of the meal, with the intention to use it for a later meal, but then we do not plan well, or we let spoil this leftovers, to finally end up in the rubbish bin.
Planning, kitchen and reused
To reduce this waste in our homes we should start by good planning. We have to think the weekly menu, and the food we need for this menu, and what we are going to do with leftovers. Knowing the weekly menu will help us to know previously what quantities and ingredients we need to do it.
In this way we will not buy too much and thus we will avoid some of these foods end up damaged, or buy food we already have in the pantry. When we make the purchase it must look at the expiration date or preferred consumption of food, ensuring that falls within our planning.
At the time of cooking we should adjust the amounts of ingredients to the number of people, using kitchen utensils to help us calculate the portions always in the same way. It can be calculated for cooking more quantity if you have a clear intention, and freeze the leftovers for a later meal planned, but this must be taken into account.

Latest posts by Teba Torres Zapata
(see all)