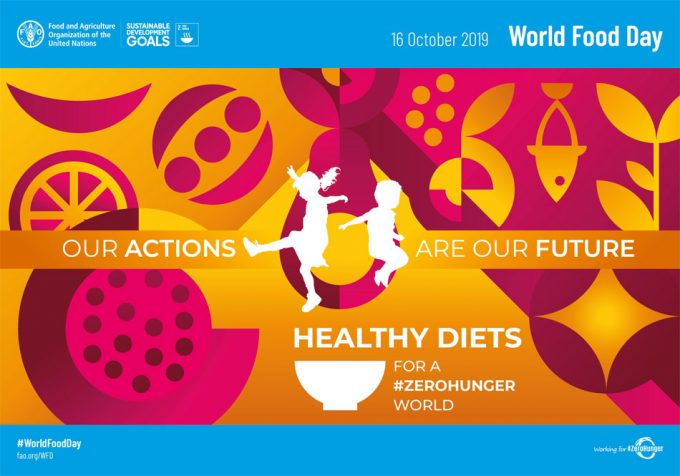 #ZeroHunger is the motto for the World Food Day that is celebrated on October 16 leaded by the Food and Agriculture Organization of the United Nations (FAO) worldwide. #ZeroHunger is also part of the Sustainable Development Goals (SDG) of the World Health Organization (WHO).
Achieving #ZeroHunger is not only about feeding hungry people, but also about doing it in a healthy and sustainable way. Food safety in our times is not only a matter of quantity, but also of quality. Unhealthy diets have become the first risk factor for disease and death worldwide and that is why we need to reach the entire population a sufficient variety of safe, nutritious and affordable foods, while caring for the health of the planet on which we all depend. World Food Day asks us to take action in all sectors to reach #ZeroHunger, 100% nutrition.
But what is a healthy and sustainable diet? FAO itself determines that a healthy diet is one that provides nutritional needs to maintain an active life and reduce the risk of contracting diseases through the consumption of safe, nutritious and diverse foods. And a sustainable diet supports entrenched solutions to food production with a low level of greenhouse gas emissions and a moderate use of natural resources such as soil and water, while increasing food diversity for the future.
What is the current situation?
The high consumption of dishes rich in sugars, refined starches, fats and salt have become the basis of food for developed countries, limiting the consumption of traditional dishes made with vegetables, legumes, whole grains, etc. We cook less, move less and consume more prepared dishes. The result is that we are malnourished. Do you find it alarming? Don't you think it's for so much? Let's see some figures:
Currently, there are already more people with obesity and overweight in the world than those who are hungry: almost 800 million people (672 adults and 124 children) in the world suffer from obesity and another 40 million children are overweight. However, it is estimated that there are about 820 million people who suffer from hunger (approximately one in nine).
Unhealthy diets along with sedentary lifestyles have overcome smoking as the main risk factor for disability and death in the world.
Approximately 2 billion euros are spent each year to treat health problems related to obesity.
These are some of the conclusions reached by FAO related to hunger and malnutrition but they are not the only ones. Our way of feeding ourselves is also having environmental consequences:
The environmental damage caused by the food system could increase from 50 to 90%, due to the higher consumption of processed foods, meat and other products of animal origin in low and middle income countries.
Of some 6,000 species of plants grown for food throughout the history of mankind, today only three species (wheat, corn and rice) supply almost 50 percent of our daily calories. We need to consume a wide variety of nutritious foods.
Climate change threatens to reduce both the quality and quantity of crops, reducing crops. Rising temperatures are also exacerbating water scarcity, changing the relationship between pests, plants and pathogens, and reducing marine resources.
The current food system – which includes farming, animal husbandry, processing, packaging and transportation – is responsible for 37% of the total greenhouse gas (GHG) emissions generated annually, and losses and food waste also collaborates with 8-10% of the total sum. Belén Blanco tells us in more detail in the post "Tell me what you eat… and I'll tell you if it's good for the planet".
For all this, because they are realities, all together we must raise awareness of the problem of hunger, malnutrition, food waste, climate change, etc. FAO calls on all people to get involved in implementing some measure to achieve the #ZeroHunger.
Who are the actors involved in this change taking place? The answer is all. Modify the way of producing, supplying and consuming food. The involvement of the industry in limiting saturated and trans fats, added sugars and salt. Eliminate advertising and promotion in unhealthy foods and especially those aimed at children and adolescents. Implement educational programs on nutrition and health. Actions from all levels are necessary.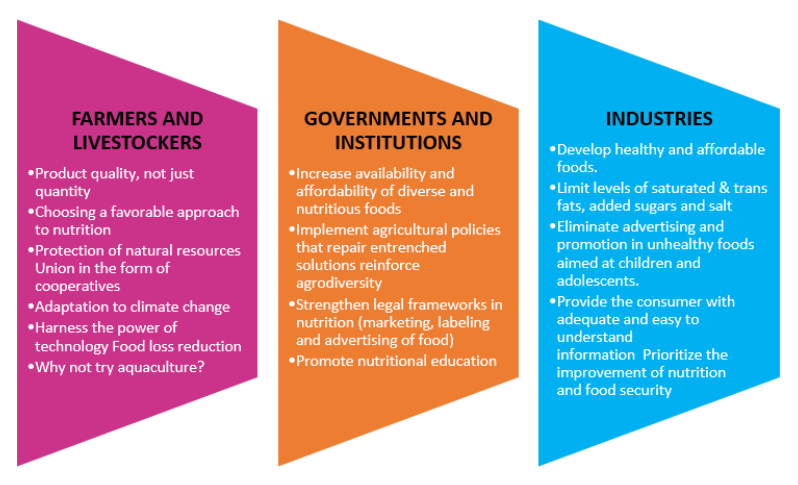 And I, as a consumer, what can I do? As a consumer, as a citizen, as a human being on this planet, you can. Think about how you consume, how you eat and act on your own, individual level and with the people around you. Here are a series of measures that can guide you: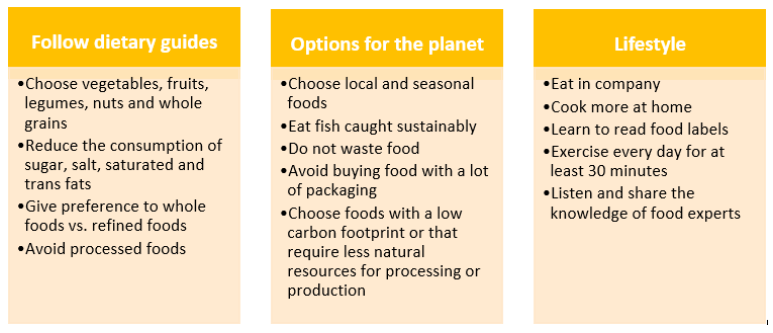 World Food Day is not the only forum in which it strives to improve food security, but FAO also participates with WHO and other agencies in the implementation of the United Nations Decade of Nutrition Action (2016-2025). It aims to strengthen joint action to reduce hunger and improve nutrition worldwide and assist all countries in their specific commitments. The SOFI report is published annually to provide information on the progress made to eradicate hunger, achieve food security and improve nutrition. The last one was published on July 15, 2019.
On World Food Day, FAO launches a strong message: we can end hunger and all forms of malnutrition to become the #ZeroHunger generation. But this will entail the joint action of all, from the commitment of each one of us in the change in the way we feed ourselves, to the cooperation between countries for an efficient transfer of technology, for example, through the correct decision-making of governments or by the involvement of private companies and the media.
Latest posts by Laura Fernandez Casal
(see all)